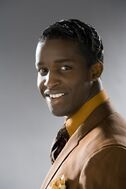 Seaweed J. Stubbs is a prominent African-American character in both the 1988 and 2007 film. He is the son of the R&B record producer Motormouth Maybelle, as well as the older brother of Little Inez Stubbs, who wins the Miss Teenage Hairspray pageant and forever integrates the Corny Collins Show in the 2007 film.
Personal Life and Personality:
Edit
Seaweed is a talented dancer, like his younger sister, Inez. However, as he is black, he is discriminated due to his race and faces a lot of hardships. He is also a prominent dancer during the monthly "Negro Day" event on the Corny Collins Show, which is hosted by his mother, "Motormouth" Maybelle Stubbs.
Despite the hardships he faces as a black American, in both films he is shown to be a kind and friendly person, who is quick to become pals with lead character Tracy Turnblad, whom he teaches how to dance. In both films, he becomes smitten with Tracy's best friend Penny Pingleton, who also reciprocates his feelings.
His love for Penny knows no boundaries, especially when he goes to save Penny when she is imprisoned in her bedroom by her conservative, religious, and racist mother. In both films, Seaweed helps Penny run away from her life, implying that she would never return to her mother.
In the 2007 film, Seaweed, along with Tracy's father and the other "Negro Day" dancers help to sabotage the Miss Teenage Hairspray pageant in order to smuggle Tracy in. Their plan succeeds, with Tracy dethroning her enemy Amber Von Tussle, which also leads to his sister, Little Inez winning the pageant, and subsequently integrating the Corny Collins Show. It was also during the final part of the 2007 film where he and Penny cement their new interracial relationship with a kiss, prompting Penny's mother, Prudy to meltdown and to fall over her coffee table in terror when she sees the kiss on local television.
In the 1988 film, Seaweed was played by Clayton Prince, whilst in the 2007 remake, he was played by actor Elijah Kelley, who was at that time new to the film industry. Despite this fact, Kelley beat other potential auditioners and several popular R&B stars for the part.
Community content is available under
CC-BY-SA
unless otherwise noted.