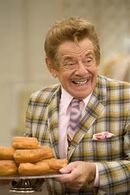 Mr. Pinky is the owner of Mr. Pinky's Hefty Hideaway, an integrated women's clothing boutique on the eastern part of Baltimore, Maryland. He wanted Tracy Turnblad to be his spokesperson. However, his contract was turned down by Edna Turnblad. She made a deal in which he accepts her standards.
In the 1988 film, his first appearance was on the Corny Collins Show as its newest sponsor. Here, he advertises his new line of women's clothing for those who are overweight, while Tracy acts as his model. He is last seen at the 1963 Miss Auto Show competition, dancing along with Edna.
In the 2007 remake, his first appearance was when he contacted Edna, asking for permission to let Tracy be his spokesperson. Despite her initial refusal, Tracy later convinced her otherwise, and the two spent the evening picking out outfits at his boutique. He is last seen watching the results of the Miss Teenage Hairspray pageant 1962, cheering along with his staff and customers as the Corny Collins Show is finally integrated.
In the 1988 film, he was played by Alan J. Windl, and in the 2007 remake, he was played by Jerry Stiller, who had previously played Wilbur Turnblad in the 1988 film In Hairspray Live!, he was portrayed by Sean Hayes.
Jerry Stiller was also known as Wilbur Turnblad in the 1988 adaptation of Hairspray.
It is interesting to note that while his boutique is in the white part of town, there are black employees employed there, which led many to believe that he himself is a supporter of racial integration.
Community content is available under
CC-BY-SA
unless otherwise noted.