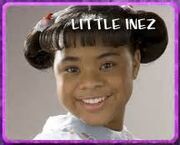 Little Inez Stubbs is the younger sister of Seaweed and daughter of Motormouth Maybelle. She is also a supporting character in both the 1988 and 2007 films, though her role in the second film was later enlarged.
In the 1988 film, Little Inez wasn't introduced until we see Tracy, Penny and Link arrive at the R&B record shop, where she is surprised to see her idol make a sudden appearance. Towards the end of the film, Inez is seen along with her mother, "Motormouth" Maybelle Stubbs, in pressuring the Governor of Maryland to pardon Tracy in order to get her released from reform school.
Their plan succeeds, and Tracy is freed, much to the joy of her supporters. And as Tracy gate-crashes the Miss Auto Show pageant, and dances her part, Inez takes it upon herself to snatch the crown away from Amber's grasp.
Her role in the 2007 remake was expanded, and Inez is first seen during the record hop, cheering Tracy on as she steals the spotlight. She makes her first speaking appearance when Seaweed introduces her to Tracy, Link and Penny. Tracy tells her that she better be the next to be chosen for the Corny Collins Show, and Inez proves her talent by singing her solo part of "Run and Tell That".
Inez is next seen with her mother, Motormouth Maybelle Stubbs, when the two were awakened during the ending of "Without Love", here she teases Seaweed about his new interracial relationship with Penny. Her final appearance takes place throughout the events of "You Can't Stop the Beat".
Here, she appears with her mother and an unknown relative during Tracy's opening solo. Later on, Link decides to give the young black girl her fifteen minutes of fame, as he drags the surprised girl onto the stage and dances with her. Her dance moves are a big hit with the whole of Baltimore, and she is proclaimed the winner of the Miss Teenage Hairspray pageant, thus integrating the Corny Collins Show.
Her dancing doesn't stop there, as she also dances during Edna Turnblad's solo along with the aforementioned lady. And as the film draws to a close, she is given the crown as her proud mother, along with Penny and Seaweed, watch on.
Actresses
Edit
In the 1988 film, Little Inez was played by child actress Cyrkle Milbourne, while in the 2007 remake, she is played by actress Taylor Parks.
Community content is available under
CC-BY-SA
unless otherwise noted.